Christopher St John (Incumbent)
Reverend Dr Chris St John grew up in Newtownabbey and attended the Church of the Holy Spirit. He was educated at Belfast Royal Academy where he met his wife, Andrea. For many years they lived in Holywood where their three children grew up. The family attended the parish of St Phillip and James, Holywood.
Rev Chris is a keen guitarist and played regularly in the worship team in Holywood. Prior to entering the ordained ministry, he spent many years involved in adult training and education. He possesses several degrees together with a PhD in Education from the University of Ulster.
After attending the Church of Ireland Theological Institute, he was appointed as deacon in Holy Trinity, Woodburn. Upon ordination to priest, he served as curate in St Mark's, Dundela. In January 2021 he was instituted as rector of St Nicholas.
Rev Chris is passionate about encouraging Christian discipleship and spreading the gospel.
He loves all things Italian, especially pizza and can often be seen riding around Carrickfergus on a Vespa."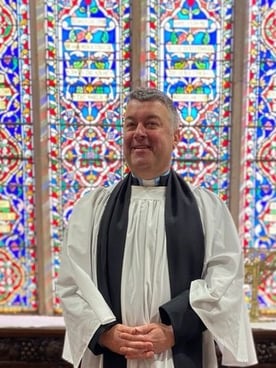 Nathan is from Lisburn. He came to faith at 19 and from then on, worshipped in Lisburn Cathedral, where he met his wife Grace. Together they have two boys; Jacob who is 3 and Thomas who is 9 months old. They also have a dog called Rudolph (who doesn't have a red nose…). Nathan was ordained Deacon in September 2020 and served his Deacon Internship in Magheragall Parish, Lisburn. He was ordained Presbyter in September 2021 to serve his curacy here in St Nicholas'.
Before beginning training for ordination, Nathan did an undergraduate degree in Theology at the Irish Baptist College. He also worked as the Youth and Families' Worker in St Peter's Parish Church, Belfast in his final year. Before that he trained as a joiner and worked building climbing frames and sheds.
Nathan is passionate about sharing the good news of Jesus. He is also passionate about seeing fellow Christians grow in their relationship with Jesus and being released in their gifts to serve him. Nathan is a passionate Manchester United fan, loves really good coffee, plays guitar, and loves Chinese food.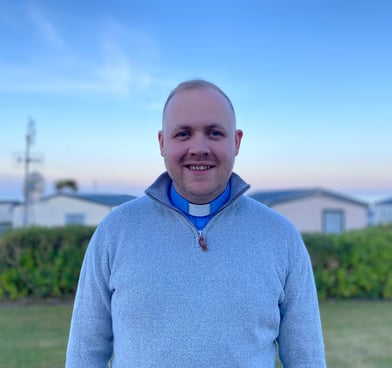 Rev Canon Brian Courtney (Hon. Assistant Priest)
Brian is from Lisburn and grew up in Christ Church Parish before moving with his parents into the estate that formed part of the then new parish of St Paul. Most of his early working life was in the printing trade, and he was later ordained in 1973 for the Parish of Willowfield. From there, he moved to become the curate responsible for Knocknagoney.In 1978, he became Rector of Aghavea, in the Diocese of Clogher, followed by becoming Rector of our very own St Nicholas', Carrickfergus in 1983.In 1995, he moved to become Rector of Enniskillen from 1995, where he remained until retirement from full time stipendiary ministry in 2009.Brian and his wife, Valerie, returned to live in Carrickfergus and In December 2009 the then Rector, Archdeacon George Davison, invited him to join the clergy team in St Nicholas.He has continued in that role from February 2010 until the present.
Get In Touch

028 9336 0061
office@saintnicholas.org.uk

Address

St Nicholas' Parish Halls
3 Lancasterian Street
Carrickfergus
BT38 7AB
N Ireland